Green Phyto-Power™ - Super Phytonutrition
DETAILED PRODUCT DESCRIPTION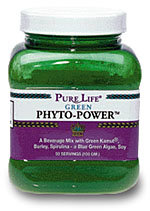 GREEN-PHYTO POWER™
Your mother was right! Leafy green vegetables contain important nutrients not found in any other food or even in vitamin supplements.
This power, formulated by one of the country's leading experts on phyto-nutrition, is based on the fact that there is no one perfect food--not soy, not blue green algae, not barley green. GREEN PHYTO-POWER® has them all--barley green--blue green algae--colloidal mineral and much more! RBC has brought together all the super foods - Green Barley, Soy Lecithin, Chlorella, Spirulina, Kamut® grain from Utah, Cruciferous Vegetables, Organic Flax Seed, deep-rooted Alfalfa, and the newly approved Stevia from Peru, in a pleasant tasting powder. You can be confident that you are giving your body all of the essential amino and fatty acids, chlorophyll, all of the trace minerals in colloidal form for maximum absorption.
GREEN-PHYTO-POWER™ assures you of a more complete nutritional program than ever before. Try it for 30 days, and you will see why so many doctors recommend chlorophyll-rich foods.
Take 1 1/2 teaspoons of powder mixed in TRUAloe™ Cranapple twice a day and feel the difference!