TRUAloe™ Vera Juice
Aloemannan™
DETAILED PRODUCT DESCRIPTION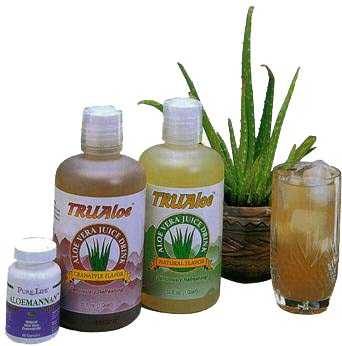 Aloe Vera - TRUAloe™
For more than 3,000 years the juice from the aloe leaf has been applied to the skin and taken internally. Soldiers of Alexander the Great, and explorers such as Columbus carried the aloe plants to distant countries for a continuous supply of fresh leaves. In Central America, aloe fields planted 500 years ago by Spanish Conquistadors still exist today.
Today aloe plants are processed in many ways:
Pasteurization using extremely high heat
Pulp filtration, which removes much of the aloe juice
Concentration, which evaporates or distills vital ingredients
Decolorization with charcoal, which removes organic compounds
Whole leaf processing, which contaminates the aloe gel with rind and bitter sap, which must then be removed via the first 4 steps above
Artificial additives such as Irish moss (carrageenan), substituted for the natural thickness of aloe lost through intensive processing.
---
Royal BodyCare®: A Scientific Breakthrough
Clinton Howard, Royal BodyCare's founder, has directed research, and published in scientific reports the long-held secrets of aloe's amazing benefits, and why it has been recommended by so many.
Today, RBC starts with prime grade, freshly harvested aloe leaves, removes the skin, mills to a liquid state, and processes the gel with proprietary cold-temperature methods which block the enzymatic breakdown of aloe without the use of sulfites. This exclusive process retains the integrity and natural characteristics of the rich aloe gel--and ensures that YOU get more of what you drink aloe for--its legendary natural goodness.
Many people drink TRUAloe as an essential part of their daily body care by taking 1-3 oz. twice daily.
TRUAloe™--comes in Cranapple Flavor or Natural Flavor.
Aloemannan™
Aloemannan is the way to enjoy all the benefits of aloe with only the water removed. It's far better than an extract that gives you just one beta mannan. Aloemannan has all the beta mannans and other polysaccharides plus the synergistic ingredients that nature provides in aloe vera.