Natures Superfood
Spirulina Blue-Green Algae
The Nutritional Power in Spirulina
The highest quality protein available.
Higher in protein value than beef, chicken, turkey, eggs, soybeans, rice, tofu or wheat.
70% protein which is 95% digestible compared to 20% from meat protein.
Contains all of the essential amino acids that the body cannot produce.
Contains no fats or starches.
Grown in a controlled environment, free from pollutants and toxins.
A Vitamin and Mineral Gold-Mine
25 times higher in beta-carotene than carrots.
28 times higher in iron than beef liver, and 56 times higher than spinach or steak.
The highest whole food source of B-12, which is important for vegetarians.
Rich in glycogen which is rarely found in plants. Glycogen is stored in the liver for quick energy.
Richer in chlorophyll than alfalfa and wheat grass.
Good for the Environment
Produced through ecologically sound aqua-culture.
100% Natural and Non Toxic.
Creates clean air as it grows by removing carbon dioxide and replenishing oxygen to the atmosphere.
You name it-if it's good for you, Spirulina has it! Protein, amino acids, betacarotene, chlorophyll, B-vitamins, calcium, iron and GLA are all in Spirulina. In fact, Spirulina is such a well-rounded natural whole food that NASA has chosen it as a primary food for space travel. And the United Nations has concluded that Spirulina could be the solution to global protein shortages.
Spirulina, a microscopic blue-green algae, is nature's very own miracle superfood. Per acre, Spirulina's protein yield is 10 times that of soybeans and 200 times that of beef! It is the best natural source of pro tein anywhere. The human body assimilates 95% protein from Spirulina and only 20% from meat.
But the good news doesn't stop there...Spirulina also has all nine of the essential amino acids, as well as nine more nonessential ones. One tablespoon of Spirulina powder provides 700% of the U.S. RDA of vitamin B12...50% of vitamin B2... and 2300% of vitamin A, in the safe form of beta-carotene, an essential antioxidant that helps protect the body's healthy cells.

It was the goal of a young scientist, Dr. Christopher Hills, to find the crucial answer to world hunger. He dreamed of a world where there would be no starving children, no diseases brought on by malnutrition, and no wars fought over crop lands. People would live longer, healthier lives. Working with Dr. Hiroshi Nakamura, they"re-discovered" Spirulina and its biological superiority. It was a virtually forgotten form of food, although historical accounts have it being harvested by man as early as 1521. After introducing this miracle superfood to the Western world through books and lectures, Dr. Hills became known as the "Father of Spirulina." Dr. Hills, who was originally from England, decided to settle in California in order to grow and market Spirulina directly to consumers. His new company, Light Force, took off-enabling Dr. Hills to donate millions of dollars worth of Spirulina products to feed and nourish hungry children and their parents around the world.
While continuing his research on Spirulina, Dr. Hills made another important discovery-a powerful antioxidant complex called Phycotene, derived from Spirulina and Dunaliella algae. Phycotene contains beta-carotene, as well as a complex of 16 other carotenoids and micronutrients that work together to perform different, yet complementary, nutritional functions in your body. You've probably heard that beta-carotene plays an essential role in fighting off free radicals in our bodies. Not many people know there are several carotenes that are actually more potent than beta-carotene, for example, alpha-carotene, gamma-carotene and lycopene. You get all of these, as well as beta-carotene, in Phycotene, exclusive to RBC.
Spirulina
Spirulina Microclusters®
Exclusive to Royal BodyCare!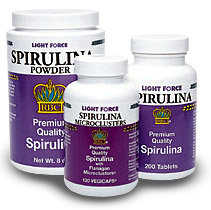 Spirulina, a microscopic blue-green algae, is nature's very own miracle superfood. Spirulina is rapidly delivered to your cells via a the most efficient nutrient delivery system known to nutritional science-Flanagan Microclusters®. You will feel an increased sense of well being and stamina when you take your Spirulina Microclusters® everyday— the most powerful form of Spirulina on the planet!
Spirulina supplies nutrients that are lacking in most of our diets. It's a great source of nourishment. It enables children and adults who don't get the proper amount of vegetables to get their greens in tablet form or in a delicious Smoothie. It also provides athletes with energy and reduces recovery time. Spirulina is not only good for people, but animals and plants thrive on it. Gardeners use Spirulina as a complete effective foliar plant food.
Phycotene Microclusters®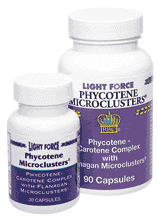 Maintain your optimum health with this unique blend of Dr. Hills' Phycotene, natural vitamin E, selenium and beta-carotene—all powerful anti-oxidants designed by nature to protect and strengthen your body's healthy cells so they can fight off "free radical" damage. Combined with Flanagan Microcluster® mineral catalysts, the super nutrients of Phycotene are more quickly and effectively delivered to your body cells for optimum performance. Phycotene is the most potent combination of carotenes available!