Phycotene ®

While continuing his research on Spirulina, Dr. Hills made another important discovery----a powerful antioxidant complex called Phycotene®, derived from Spirulina and Dunaliella algae.
Phycotene is a complex extracted from spirulina and dunaliella algea. It contains beta-carotene, as well as a complex of 16 other carotenoids and micronutrients that work together to perform different, yet complementary, nutritional functions in you body. You've probably heard that beta-carotene plays an essential role in fighting off free radicals in our bodies. Not many people know there are actually more potent carotenoids than beta-carotene, for example, alpha-carotene, gamma-carotene and lycopene.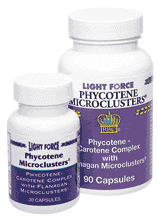 Phycotene Microclusters®
Phycotene-Carotene Complex
Maintain your optimum health with this unique blend of Dr. Hills' Phycotene, natural vitamin E, selenium and beta-carotene----all powerful anti-oxidants designed by nature to protect and strengthen your body's healthy cells so they can fight off "free radical" damage.
Phycotene Microclusters contain nearly eight times more Phycotene than any other Royal BodyCare--Light Force product. When Phycotene is combined with Flanagan Microclusters, the negative electrical charge of the Microclusters amplifies the effectiveness and efficiency of the super nutrients of Phycotene to an even greater degree. Phycotene is the most potent combination of carotenes available it contains:
Tiny electrically charged mineral clusters that reduce particle size of nutrients, speeding up their digestion and assimilation into the cells.
Phycotene

A complex of 17 carotenoids and micro-nutrients extracted from Spirulina and Dunaliella algae. Powerful antioxidant. Published studies from Harvard University about Phycotene have found that Phycotene works significantly better than beta-carotene alone.


Vitamin E

Powerful antioxidant.
Acts as a defense against potentially harmful reactions with oxidants.
Extensively researched.


Selenium

Works with vitamin E to help protect cells against oxidation. Extensively researched for antioxidant qualities
Beta Carotene (provitamin A)

Beta carotene is often referred to as provitamin A because it is safely stored in the fat cells of the body until it is converted to vitamin A (as needed by the body). Since beta-carotene is only converted to vitamin A as needed, it and other natural carotenes are safe and non-toxic, even in large amounts.

Powerful antioxidant.
May help scavenge free radicals that occur due to radiation exposure and pollution.
Focus of numerous recent research studies. May help to protect the body's healthy cells.